Die Vergabe der M7 Partner Awards und das traditionelle Abendevent M7 Wondergames während der ANGA COM gehören zu den gesellschaftlichen Höhepunkten der Messe. In diesem Jahr wird es drei Gewinner geben. Neben dem Kreativsten TV-Werbemittel und Best Performer zeichnet M7 am 5. Juni erstmals auch den Broadcaster of the Year aus. Zur Preisverleihung und den M7 Wondergames werden im Deutschen Olympischen Sportmuseum in Köln in diesem Jahr über 300 führende Branchenvertreter von Netzbetreibern, TV-Sendern, Verbänden, TV-Dienstleistern und Fachmedien erwartet.
Die Jury aus Branchenexperten hat sich nach Sichtung der vorgeschlagenen M7 Partner auf insgesamt zwölf Nominierungen festgelegt. Als Best Performer stehen die Stadtwerke Merseburg, wilhelm.tel, Deutsche Glasfaser und Salt auf der Shortlist. Salt und die Stadtwerke Merseburg gehören ebenfalls in der Kategorie Kreativstes TV-Werbemittel zu den Nominierten. In dieser Kategorie treffen beide Unternehmen auf die Stadtwerke Neubrandenburg und das Zentrum Wohnungswirtschaft der Deutschen Telekom. Eine sehr enge Entscheidung wird beim Broadcaster of the Year erwartet. Schließlich stehen NBCUniversal International Networks, Sport1, Sony Entertainment und die Discovery Gruppe für bestes TV-Entertainment.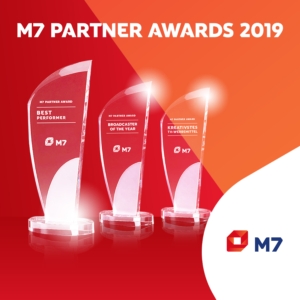 "Mit den M7 Partner Awards ehrt die M7 Group SA herausragende Leistung, Engagement und Kreativität. Daher ist es immer ein sehr intensiver Prozess, die Nominierten aus der Vielzahl der hervorragenden Netz- und Senderpartner der M7 Group zu identifizieren. Alle nominierten Partner gehören zu den Besten und stehen für Kreativität, Innovationskraft, Kompetenz, Engagement und Kundenorientierung. Zugleich setzen sie diese wichtigen Anforderungen und Erfolgsfaktoren im Wettbewerb beeindruckend jeden Tag erneut erfolgreich für ihre Kunden und Zuschauer um", betonte Christian Heinkele, Geschäftsführer der Eviso Germany GmbH.
Im vergangenen Jahr ging der Award Best Performer an das Zentrum Wohnungswirtschaft der Deutschen Telekom. RFT kabel aus Brandenburg überzeugte in der Kategorie Kreativstes TV-Werbemittel.
https://www.m7deutschland.de/wp-content/uploads/2019/05/Grafik-M7-Partner-Awards-2019-1.jpg
4167
4167
admin
https://www.m7deutschland.de/wp-content/uploads/2017/05/m7logo-50.png
admin
2019-05-23 10:16:52
2019-06-04 10:05:55
Simply the Best: Shortlist für M7 Partner Awards 2019 steht